ตะกร้าสินค้าของคุณ
ไม่มีสินค้าในตะกร้า
3461 Able2Extract Pro 8 แปลงไฟล์ PDF เป็น Word Excel PowerPoint AutoCad
เลื่อนดูรายละเอียดเพิ่มเติม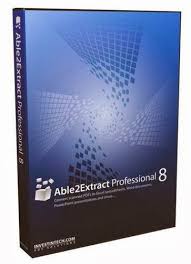 รายละเอียดสินค้า
เข้าชม : 505 | สั่งซื้อไปแล้ว : 16
---
Able2Extract Professional Ver. 8.0.42.0

เพลิดเพลินไปกับคุณสมบัติรุ่นล่าสุดของโปรแกรม "Able2Extract Professional" กับความสามารถในการแปลงข้อความจากการสแกนเอกสารโดยตรง และจากการแปลง PDF ไปเป็นไฟล์ยอดนิยมของ Microsoft Office ทั้ง Word | Excel | PowerPoint รวมถึง Autocad | Publisher และ XPS ด้วย โดยใช้เทคโนโลยีชั้นนำและขั้นสูงอย่าง "OCR" มาเป็นฟังก์ชั่นการทำงานที่โดดเด่น ==> เป็นทางเลือกอีกหนึ่งทางสำหรับผู้ที่ชอบลองอย่างแท้จริง!

Release Date : 02/11/2013




Homepage :
http://www.investintech.com/prod_a2e_pro.htm
System Requirements : Windows 8, 7, Vista, XP - x32 or x64 editions

ภาษาอังกฤษ ดูคุณสมบัติกันครับ

Features List : คุณสมบัติของโปรแกรม

? PDF to Excel
Able2Extract Professional 8 s famous PDF to Excel conversion lets users take tabular data from their native and scanned PDF documents and then convert it into perfectly formatted Excel spreadsheets where they can perform their own analysis. Able2Extract Professional offers two conversion options ? automatic and custom.

? PDF to Word
Able2Extract 8 s PDF to Word conversions preserves the layout, formatting, and graphics of the PDF within MS Word. Conversions retain the look and feel of even the most complex PDF documents. Conversion output options a both .doc or .docx format. Able2Extract also offers PDF to Forms conversion for native PDF forms, which allows users to fill out their PDF forms in MS Word.

? PDF to PowerPoint
Presentations in PDF are recovered and simplified. It is not uncommon to receive presentation slides in PDF. With Able2Exract Professional 8, you can take PDF data and move it into PowerPoint (.PPT, .PPTx) format for easy editing and viewing in your next presentation.

? PDF to Publisher
Make Edits in Desktop Publishing. Take PDF content and make it available for editing and revision in Microsoft Office Publisher. A great way to reclaim PDF content in the very well-established desktop publisher included with Office and then make edits within the software.

? PDF to AutoCad - Recover CAD drawings
Able2Extract Professional 8 converts PDF to DXF and DWG, the file formats by Autocad. Using this conversion feature, users can recover vector graphics and text from the PDF and place it into Autocad readable formats.

? PDF to Images - Make PDF Images Useable
Convert PDF Images into popular image formats such as TIFF, JPEG, PNG, BMP, and GIF. User has the ability to designate image dpi, color or black and white and more.

? PDF to Open Source Formats - Conversion to Open Source Formats
Open Office is increasingly seen as the alternative to Microsoft Office. Able2Extract Professional supports conversions from PDF to Writer (Word equivalent), Calc (Excel equivalent) and Impress (Powerpoint equivalent).

What is New Able2Extract Professional 8 : อะไรใหม่ๆ ในเวอร์ชั่น 8

? Cross Platform
For the first time ever, Able2Extract Professional 8 is fully cross platform on Windows, Mac and Linux. All the benefits and features of Able2Extract are available to you as a user no matter which of the 3 major operating systems you are using. Additionally, the license key you receive when you license Able2Extract will work on any of the three operating system distributions at once.

? Improved PDF Rendering
Able2Extract Professional 8 has a completely new PDF viewer developed from scratch by the Investintech.com development team. The result is a PDF viewer embedded in Able2Extract that is faster, has the ability to open more files and is able to show PDF in higher fidelity. This means not only a truer PDF document viewing experience but also an improved conversion output experience due to the higher quality PDF reading.

? New Custom Excel
The advanced custom excel conversion option that is proprietary to Able2Extract has gotten better with a whole new interface and an advanced document preview pane. This allows the user more power over controlling difficult conversions from PDF to Excel as well as speeding up the process since users can preview their PDF to Excel conversion prior to actually placing the data in Microsoft Excel.

? Updated OCR
The d and more powerful OCR engine included in Able2Extract Professional 8 has improved character recognition and now has the ability to convert some images from scanned PDF documents into Microsoft Office formats.

? Improved Conversion
Able2Extract Professional 8 has made incremental improvements in its PDF conversion output as a result of the d OCR technology and the improved PDF rendering. The result is PDF conversions to Word, Excel, and PowerPoint that are more accurate and stay truer to the actual PDF document once it is converted back into its native form.

? Document Thumbnails
The PDF document viewing module of Able2Extract now has the ability for users to see thumbnails of each page of the PDF d ocument. This provides a quick way to scroll through the document in order to pinpoint the exact place where they would like to make their PDF conversion.
---
Url: http://programdeedee.com , Email: programdeedee@hotmail.com